Objective:
Replace customer's dense EPS support block with universally accepted materials for overseas customers. Solutions also needed to be developed to add additional support while shipping. The packaging needed to hold the 4 foot, 200-pound cart steady while moving down an assembly line. In addition, the cost needed to be less than the current packaging and all needed to be easily recyclable.
Solution:
Fibreform designed a molded fiber pulp base larger than the EPS block, which allowed the unit base to be supported at several points, making the unit steadier when building along the assembly line and keeping the rocking to a minimum. The top pad avoided contact against sensitive areas and filled out the carton, which allowed added support and held the finished unit more firmly in place. Included was a moisture proof additive that ensured safe overseas shipping under high humidity conditions.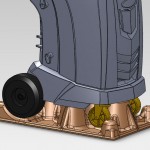 Contact Us
with any questions or specific requests you have regarding your pulp packaging needs or our services and we will gladly get back to you with in the next 24 hours.